Mercedes Benz
Discover our home developed original upgrades for your Mercedes Models in both hardware and software.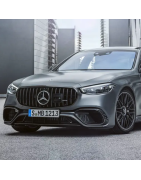 Subcategories
All options related to Driving Assist, like rear view camera, parking assist, lane keep assist, steering wheel assist, distronic assist, blind spot assist, etc

Head lights, Taillights, Interior Lights, Puddle Lights, Door Projector, Inteligent Light System/plus, digital light, Xenon, Halogen Lights

Dashcam, Valve Cap, Key Casing, Door Pin, Wheel HUB, CarPlay Wireless Kit, Cig. Lighter Charger, USB Cable.

Software Coding and Programming, altering the behaviour of the car, adding new features, upgrading the software version, improve the driving experience, customising your own car, by only software coding, without add/change any hardware.